culture collective - What is it?

Culture Collective is a network of 26 participatory arts projects, shaped by local communities alongside artists and creative organisations. Funded by Scottish Government emergency COVID-19 funds through Creative Scotland, these projects will take place across Scotland from March 2021-October 2022.

From Shetland to Inverclyde, Aberdeen to Hawick, each unique project is designed and driven by the community in which it is rooted, playing an important part in shaping the future cultural life of Scotland. Some projects will work to creatively engage with older community members; some will provide opportunities for young women and non-binary people to find their voices; and some will address disconnection, loneliness and mental health in post-lockdown world.

For the projects themselves, the Culture Collective provides a network: opportunities to share resources, learning and experiences. For the sector as a whole, the Culture Collective shines a light on the crucial importance of participatory arts projects for artists, for communities and for the future.


What We Do Now - Overview
Culture Collective's Dumfries & Galloway project
'What We Do Now' (WWDN)
is a pioneering experiment working with creative freelancers, places and communities across the South West of Scotland.
Operating as an 'anchor organisation',
The Stove Network
is working with five towns across Dumfries & Galloway to develop creative projects that support freelance practitioners/artists to platform and celebrate previously unheard sections in their communities through place-specific, relevant, community-led artistic projects. It is hoped the project will ignite and inspire new imaginative possibilities for the places that we live; with for and about the communities and towns involved. Inclusion, empowerment and creative freedom are at the heart of WWDN,
reflecting the Stove's and others continued practice in community arts and creative placemaking
. The Stove is partnering with
Dumfries & Galloway Council
,
South of Scotland Enterprise
,
Skills Development Scotland
,
Third Sector D&G
and regional arts organisations
Dumfries & Galloway Arts Festival
,
Upland
and
Wigtown Book Festival
to bring together a proposal for Dumfries & Galloway that will see creative freelancers employed to work with communities for up to a year in five
'Place Hubs' - Langholm, Sanquhar, Castle Douglas, Northwest Dumfries & Stranraer.
Each Place Hub will be supported to commission freelancers to collaborate and support creative ideas and projects with key sections of each respective community. Creative freelancers will be supported at every stage of WWDN and have access to relevant experience and skills of The Stove and our partners including: one on one support and mentorship, project delivery and production support, flexible payment and working formats that can be responsive to differing needs and working approaches. Each of the five 'Place Hubs' are in or working with communities experiencing disadvantage and took part in The Stove's research project – '
Embers: Creative Placemaking in South Scotland
'. All have identified sections of their own community where COVID has accentuated existing disadvantage and exclusion and have some experience of working culturally.
---
WWDN LANGHOLM | 'Ownership & Voice'

OutPost Arts will work with artists Jim Buchanan and Sian Yeshe to re-activate existing play and meeting spaces, and create new digital spaces for young people focusing on themes of 'Ownership & Voice'.

Emerging artist, Sian Yeshe, is working with young people in Langholm through the Arts Bronze Award in Langholm High School, exploring the role of film and filmmaking in the creative expression of young people's voices. Whilst in residence, Sian is exploring the use of digital technology to create in collaboration with young people, an online space, owned, managed, and programmed by people under 25 in Langholm.

Artist Jim Buchanan is exploring play as a means of activating forgotten spaces within the town. From play parks to trails, Buchanan is focused on uniting community voices around the possibilities of play through a variety of creative activities from parkour to projection to illuminate and inspire new imaginative possibilities for the future use of these areas.

---
Meet the Artists...

Established Artist – Jim Buchanan

Although born in Bristol in 1965, Jim Buchanan spent most of his formative years on the Donegal coast of Ireland. His childhood play space was defined by how far he could walk or run, and then return home, in a day. This freedom of movement across wild landscape, dotted with pre-Christian archaeological spaces infuses his current work, and that of his major past-time, running.

Jim went on to train as a landscape architect at Leeds Polytechnic (1983 to 1990), but emerged out of private practise as a renowned labyrinth-maker and artist, working on exciting and ambitious installation and labyrinth projects. A Canadian children's hospital is currently using two of Jim's 'labyrinths of light' for clinical therapies, and quantitative research is being undertaken to measure the degree of positive calming achieved.
Jim has been based in Dumfriesshire for over twenty years, setting his studio practise within a rural landscape backdrop, with a maritime light quality. He lives with his wife and two sons.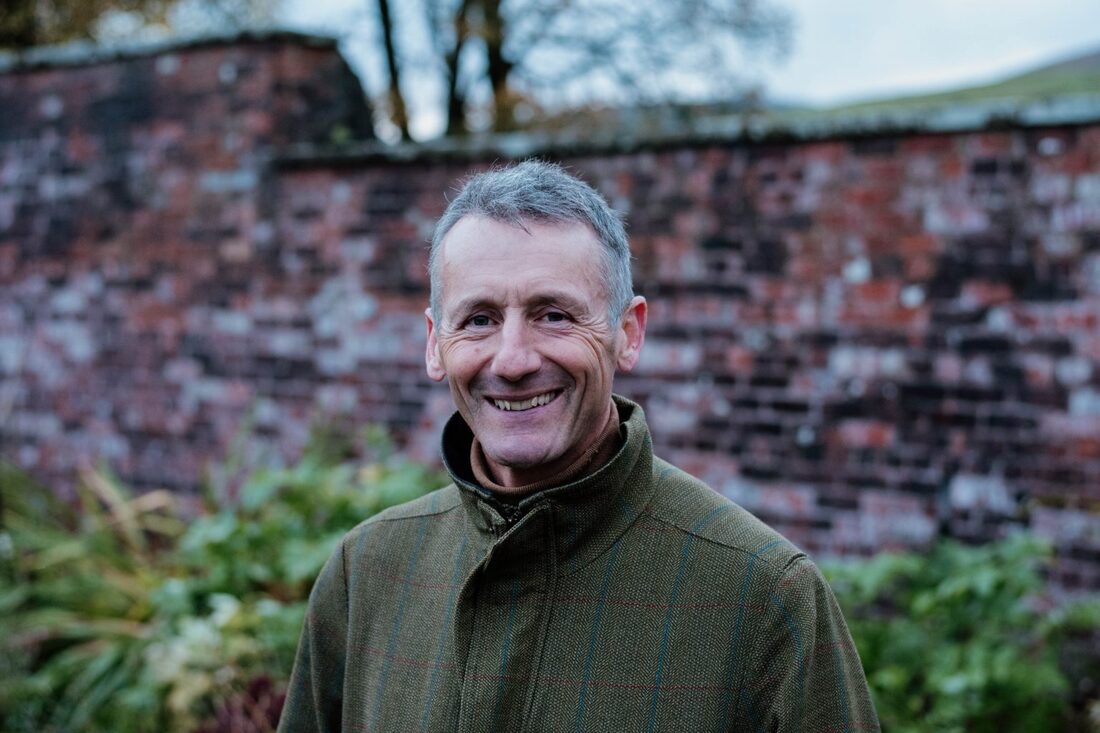 Emerging Artist - Sian Yeshe

Sian Yeshe is an emerging artist from South West Scotland. Sian explores people based narratives through a practice founded in documentary film and installation. Using visual and audio narratives she facilitates the communication of issues faced in often underrepresented communities, particularly in a rural context. Wishing her work to be approachable she rarely shows in gallery's, preferring to create physical installations in situ and release work digitally.

It is her hope that her work can not only uplift the communities she engages with but also shine light on the diversity of life within these communities.


---